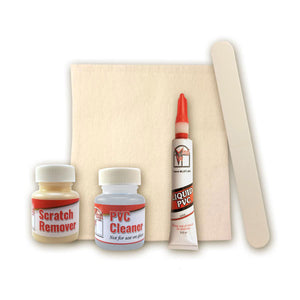 Maintain, repair and restore your vinyl window frames and keep them looking as good as new with the Window Frame Maintenance Kit by VinylDoc. With this kit, you can seal cracks with our patented Liquid PVC, clean and restore the factory sheen of your vinyl window frames and preserve the integrity of your windows while extending their lifetime and appearance. Remove blemishes with a durable 3-way file used wet or dry and restore a fresh, factory appearance to your vinyl window frames with the included scratch remover and our uniquely formulated PVC cleaner. The Window Frame Maintenance Kit is great for homeowners, service professionals and installation experts alike.
CAUTION: Do not squeeze the tube before removing the red ring! Excess pressure could cause the back of the tube to rupture. With the nozzle off, puncture the top of the aluminum tube with a tool or paperclip to allow the Liquid PVC to flow.  Twist nozzle back on until very tight.
*Also note that if an unpunctured/sealed tube is older than one year, it could thicken and be difficult to squeezed out of the tube.

CONTENTS:
(1) 1/2 oz Tube of 'Liquid PVC'
(1) Multi-grit sanding pad
(1) 1 oz of PVC Cleaner
(1) 1 oz of Vinyl Scratch Remover
(1) Multi-purpose Cleaning Cloth
See our Color Matching Chart. We endeavor to make our colors as close as possible to the manufacturer's specs. However, due to dye lot color shift and weathering colors may not be an exact match.
NOTICE: After 12:00 noon PST, expedited shipping is sent the following day. After 12:00 noon Friday, packages are shipped on Monday. Taxes & shipping calculated at checkout.

ORDER CANCELLATION: Orders are usually shipped by 12:00 noon the same day. Orders after 12 noon are shipped the next day. Orders can only be cancelled before they are shipped.