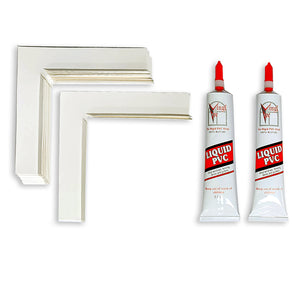 Repair broken vinyl window and door nailing flanges. The flexible flange prevents damage while restoring the nailing fin back to industry standards. 
Fixes common issues like hammer and installation damage or nailing fin corners broken due to handling.  Our Liquid PVC chemically welds and seals the flexible nailing fin to the existing window frame. The Nailing Fin Repair Kit-XL allows you to quickly and cheaply repair damaged flanges.
CAUTION: Do not squeeze the tube before removing the red ring! Excess pressure could cause the back of the tube to rupture. With the nozzle off, puncture the top of the aluminum tube with a tool or paperclip to allow the Liquid PVC to flow.  Twist nozzle back on until very tight.
*Also note that if an unpunctured/sealed tube is older than one year, it could thicken and be difficult to squeezed out of the tube.

To restore the new finish to your window frames try our Shine-It Kit and Scratch Remover.

CONTENTS White Kit:
(15) 1" x 

6″ Flexible PVC Corner Brackets 

(2) 2.5 oz Tube of Basic White 'Liquid PVC'
NOTICE: After 12:00 noon PST, expedited shipping is sent the following day. After 12:00 noon Friday, packages are shipped on Monday. Taxes & shipping calculated at checkout.

ORDER CANCELLATION: Orders are usually shipped by 12:00 noon the same day. Orders after 12 noon are shipped the next day. Orders can only be cancelled before they are shipped.